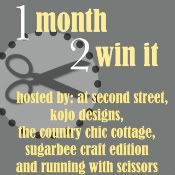 I've been chosen to participate in the May installment of
One Month To Win It, a crafting competition!!
It's going to be so much fun!!
Since there is a new project to make every week, I'm going to be busy crafting over here!! I won't be allowed to tell you which project is mine, but I will ask you to come vote each week!!
Check out the blog for more details!!